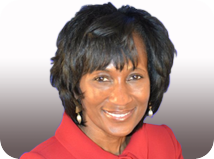 Stephanie Pierre, Board Chairman and Executive Director
I spent most of my life pursuing and fulfilling my dream of becoming a successful businesswoman. I never in my wildest dreams thought that I would have children. Having watched my mother struggle to raise four children alone, I plotted my future very carefully to avoid falling into the same trap.

After graduating from San Francisco State University, I worked as a journalist at several major newspapers, the last of which was the Dallas Morning News. I went on to open my first art gallery selling primarily African American Art. I then moved my gallery to Deep Ellum where I sold contemporary abstracts. I closed my Deep Ellum gallery in 2005, reopened
in Plano in 2006 and finally closed my gallery in December of 2007.

My driving force professionally was to ensure that I would always have choices along with the freedom that comes from being independent. Mygreatest fear was to be left on my own with children and a mortgage. As a result, I consciously avoided any situations that might result in my having children. In June of 2006, my fears were realized after I received a call from a young woman who I had helped 15 years before. She told me that the state of Texas had taken her children and asked if I would get them back and keep them. With some reservation and a lot of nudging from the Holy Spirit, I became a single mother to two toddlers whom I had never met. Casey was 18 months old and Crissah was 2 ½ years old. I had no idea what to do with them.My first year as a mom was the hardest time of my life. I sank into a deep depression compounded by the financial woes from raising two children with no financial help. I knew that if I didn't do something to remedy my situation, there wouldn't be a next year for me. My bible teaching taught me that when you think about others, you don't think about yourself. As Christmas 2008 approached, I decided to purchase gifts for other single mothers to brighten their lives. When my friends and the North Texas Community fell in line behind me in full force, Gifts For Moms was born.

In 2008, Gifts For Moms distributed over 250 gifts to single mothers who otherwise would have had nothing to open on Christmas Day. This number continues to grow!

---